Home
/
News
/
Ivan Belozertsev and Vadim Zhivulin discussed issues of economic and tourist development of Penza region
Ivan Belozertsev and Vadim Zhivulin discussed issues of economic and tourist development of Penza region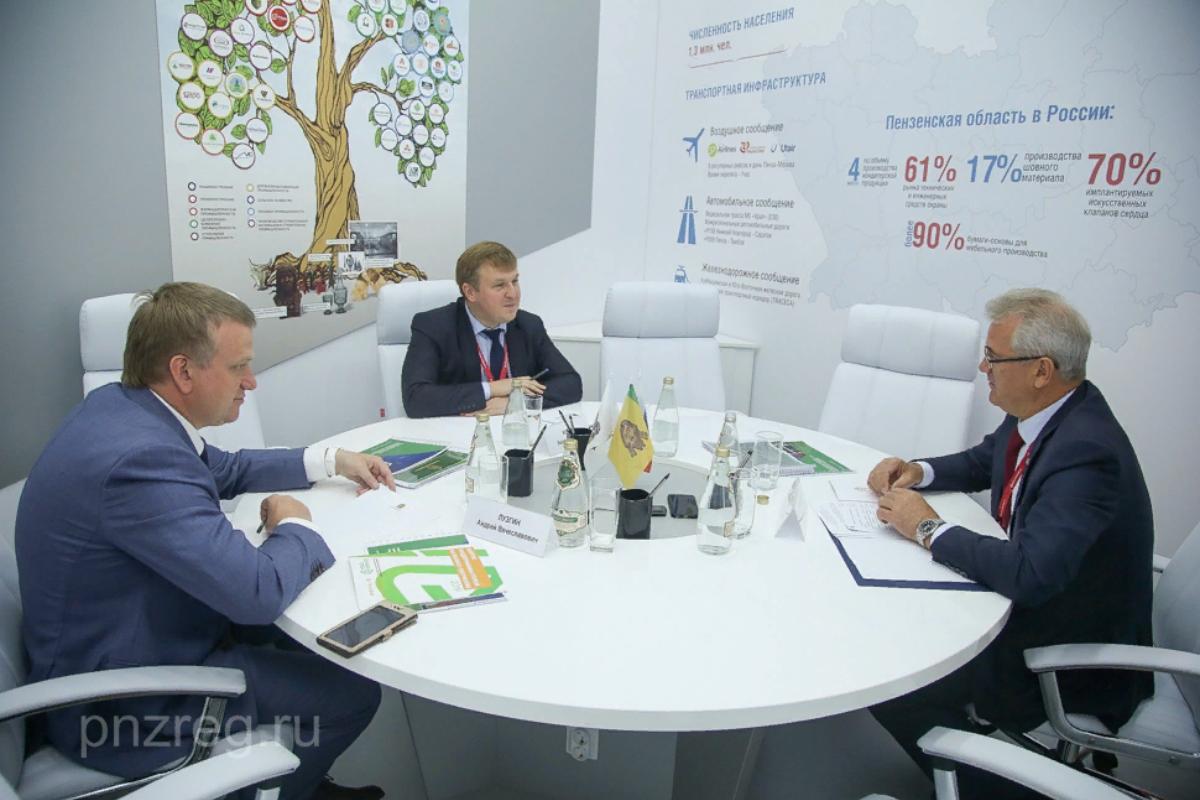 On Wednesday, June 5th, 2019, the Governor had a meeting with a deputy Minister of Economic Development of the Russian Federation in the framework of Saint-Petersburg International Economic Forum.

At the present time Penza region is laying claim to receive financing in the course of implementation of a federal project aimed at supporting the development of industrial parks. The matter is "Soyuz" park in the center of Penza designed to station production departments of 11 companies participating in the furniture manufacturing cluster. The second asset is "Master" park to be deployed on the grounds of "Serdobsk Machine Building Plant" intended to station enterprises producing metal and steel goods as well as utilizing and recycling solid municipal waste.

The Head of the regional executive of power pointed out that for the last four years small and medium business of the region had demonstrated significant dynamics.

"We expect that by 2024 the number of employees in small and medium business will have exceeded 200 thousand city residents. It's plus 40 thousand to the present number of employed in the said sphere. Our goal is to create conditions for business to develop actively", explained Ivan Belozertsev during the meeting.

"I would appreciate, if we could discuss a possibility of assigning funds from the federal budget to build industrial parks in Penza region in the course of the federal project "Acceleration of small and medium business entities". At the present time we have prepared project and budget documentation for "Soyuz" park reconstruction, and now pending approval by the state expert examination. If we manage to implement this project, we will create about 600 new jobs", he specified having also informed about the establishment of "Master" park.

In the course of the negotiations the parties considered questions of adding Penza regional facilities into the main-line infrastructure construction plan and the federal targeted investment program.
Besides, the topic of inclusion of Penza regional touristic destinations into the program of the Russian Federation's tourism development was also discussed.

In particular, the Head of the region informed the deputy Minister of Economic Development of Russia on a regional touristic project currently being at the stage of preparation for implementation called "All-season sport, recreation and entertainment center with four ski slopes "Zaseka". He also described works carried out within the investment project "Historical and cultural complex "Zolotaryovskoe gorodishche".