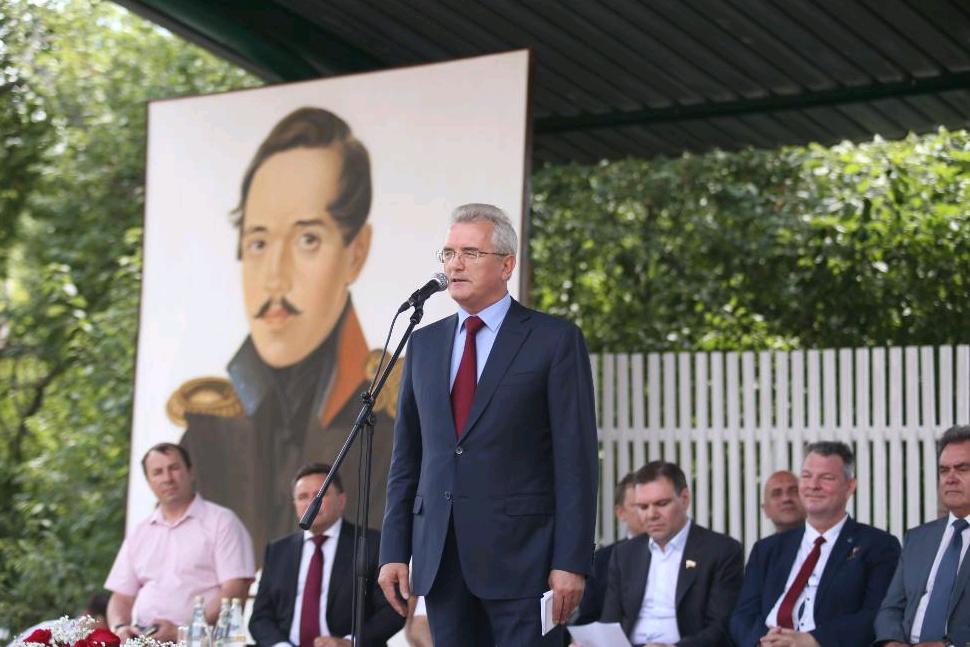 The traditional poetry festival, dedicated to Mikhail Lermontov, took place in Tarkhany, the birthplace of famous Russian poet, on July 7th, 2018.
The quotation 'The motherland is where we are loved and trusted' has been chosen as this year's festival motto. Flowers were laid on the poet's grave before the main ceremony started in the open-air theatre.
The festival was opened by Ivan Belozertsev, who underlined how important the country's affairs were for the poet.
'It is amazing that each year we visit this sacred place where the great son of Russia was laid to rest. I want to thank you for the love to Mikhail Lermontov, which can be translated as love for Russia's history,' said the governor.
Each year Tarkhany is visited by notable literary personalities as well as lovers of Lermontov poetry. This year's absence of a truly remarkable figure, poet Andrey Dementyev, who died in June this year, was sadly noticeable.
Remembering the poet, the governor noted his love for the country, expressed his deep sympathies and read the poem 'Do Not Regret' by Andrey Dementyev.
Tarkhany poetry festival traditionally includes the literary competition. This year there were sixteen participating projects from various regions of Russia - Yamalo-Nenets Autonomous Okrug, Krasnodar Krai, Tatarstan, Mordovia, Khakassia, the cities Tobolsk, Ekaterinburg, Moscow, and Penza.
'This competition is important not only for our region, but for the whole country. Many poets speak of love and friendship, of the native country. It is fantastic that they are here with us today,' said the governor.
The winners in the nomination 'Literary achievements that gained public recognition' were Zakhar Prilepin for the books 'Dissimilar poets. Fates and tragedies in the Bolshevist era' and 'Troop. Officers and militia in Russian literature' and Vladimir Davydov for the book 'Selected works, 2017'. The first prize in the nomination 'Outstanding cultural and educational activities in the Penza region' went to Evgeny Bogatyrev, head of the Pushkin Museum in Moscow. Ilya Novikov was noted in the 'Young talent nomination'.
This year's special honoured guest became former cosmonaut Aleksandr Samokutyayev. The renowned pilot was born in Penza and took the word 'Tarkhany' as his call signal. He said the decision was at first opposed to in the fear of it being difficult to pronounce by foreign astronauts members of the crew. 'All questions were dropped after our onboard engineer, an American astronaut recited 'The Sail' without a single mistake, although not knowing any Russian,' remembered he.
Among other notable guests were Russian singer Marina Devyatova and actor Sergey Makhovnikov.
The festival witnessed outstanding poetry recitals by famous poets and actors. The music performance was given by the bagpipe band from Moscow, folk singer Martha Serebryakova, and the group 'Simon-Orchestra'.
The unique atmosphere of the festival was created by poetry recitals, music, art workshops and a craft fair.